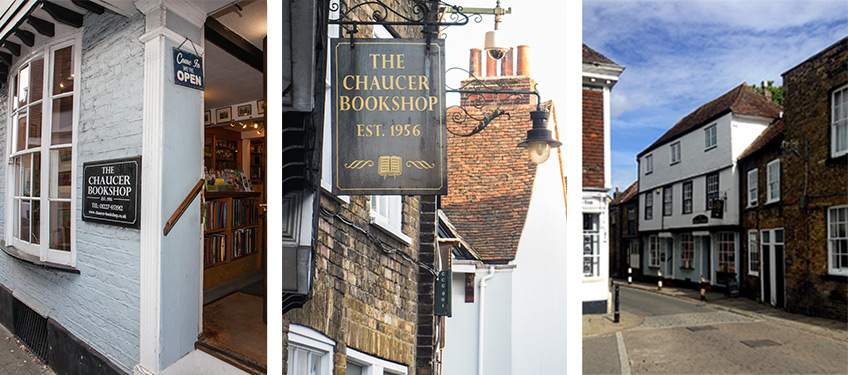 The Chaucer Bookshop
Here's when you'll find us open over the Christmas and New Year period (subject of course to the weather and public transport.)
We look forward to seeing you!
Christmas Eve Saturday 24th: 10.00 - 14.00
Christmas Day Sunday 25th: Closed
Boxing Day Monday 26th: Closed
Bank Holiday Tuesday 27th: 11.00 - 16.00
Wednesday 28th: 10.00 – 17.00
Thursday 29th: 10.00 – 17.00
Friday 30th: 10.00 – 17.00
New Year's Eve Saturday 31st: 10.00 – 14.00
New Year's Day Sunday 1st: Closed
Bank Holiday Monday 2nd: 11.00 – 16.00
Tuesday 3rd: Normal hours resume
The Chaucer Bookshop is situated in a beautiful 18th century building within Canterbury's city walls, only 5 minutes walk from the Cathedral. It was established in 1956, and Robert has owned and run the business since 1976. There is a wide range of books on two floors, from fine bindings to paperbacks, and a good selection of original prints and maps. There is also a great collection of greeting cards.
Visiting us
There are two car parks and the bus station within 3 minutes walk. The high speed train to London St Pancras takes 56 minutes at its fastest, and there are slower trains to Victoria and Charing Cross. Both East and West stations are within walking distance. The Channel Tunnel is 30 minutes away, and the ferry port of Dover about 40 minutes.
Buying from us online
Go to Our Catalogue page to browse our online stocklist, then click on 'More Details', or the image or title of any product, for further information about it.
* NB: Non-UK orders will be referred to us to calculate the shipping charges for the book(s).
* We accept payment by PayPal, but other payment methods are also available - please contact us for details.
*PLEASE NOTE: We have over 20,000 books for sale in our shop, with only about a third of these listed online. So, if you're unable to find what you're looking for here, please do let us know and we will check our shelves for you.
Selling to us
We are always interested in buying good quality antiquarian and secondhand books. If you have any that you think might be of interest to us, please send us your contact details and location, and tell us something about the books.
Contact Us
The Chaucer Bookshop
6-7 Beer Cart Lane
Canterbury
Kent
CT1 2NY
Proprietor:
Sir Robert Sherston-Baker, Bt.
T- 01227 453912
E- info@chaucer-bookshop.co.uk
* Opening hours subject to weather, public transport etc.
New to stock